NOSOSTOP
                       Quickly stops
                               nosebleeds
NOSOSTOP is a unique gel treatment that quickly stops nosebleeds.
Safe for making yourself. Useful in every first aid kit.
Nosebleeds are one of the most common bleeding. It is estimated that between 5 and 10% of the population experiences epistaxis at least once a year. Nose bleeds usually stop on their own, usually stopping after some time. However, they should be taken seriously. There may be many local causes, such as foreign objects inside the nose, allergies, runny nose and colds, chemical irritants, some topical drugs, low humidity causing excessive drying of the nasal mucosa.
The active substance of the product is glycine – an amino acid produced by the human body, which is part of the proteins. Collagen is one of the proteins containing a high amount of glycine. Collagen is needed to allow effective platelet activity and stop bleeding.
NOSOSTOP OPERATING DIAGRAM

damaged vessel, blood leaks

the wall of the blood vessel responds with contraction, causing the vessel's lumen to narrow

collagen from damaged vascular endothelium activates platelet aggregation at the site of injury

plasma elements together with fibrin fibers coagulate to form a clot

fibrinolysis – the fibrin clot dissolves and the vessel regains its continuity over a period of about 10 days. Blood normally flows through the blood vessel.
The applied gel should be applied to the nose. If the bleeding is located in the front of the nose, one tube is enough to stop the bleeding. In the case of bleeding from the back of the nose, two, and in exceptional cases three tubes may be needed
How to use the NOSOSTOP product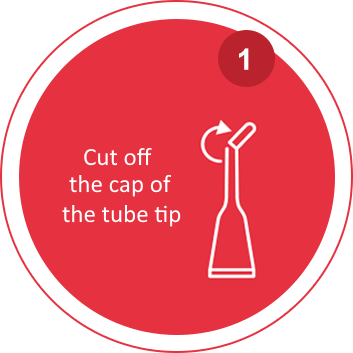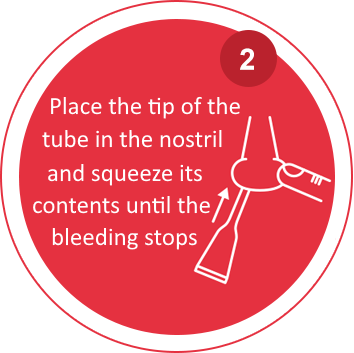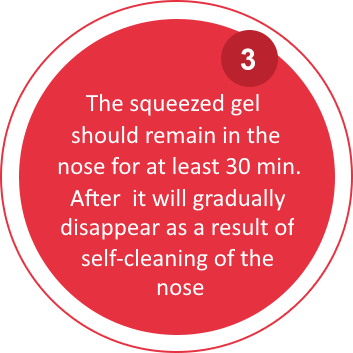 Adults and children over 7 years of age or from the age when the child can apply NOSOSTOP alone.
Children 2-7 years under parental supervision.
Medical Device Nosostop is safe to use and can be used for both rapid and light bleeding. It works naturally, gently pressing on the bleeding site.
Available packages 1 or 2 tubes in the package.